Custom Paint and Pinstriping, Sydney
LIVE

Life

KUSTOM
Smith Concepts is Australia's industry leader in custom paint work for motorbikes and cars. Make a statement with unique, vivid and striking colours and designs, with unparalled detail. Our team of custom auto and motorcycle painters can customise, modify and restore just about any vehicle. With precise paintwork, panel beating to keep the frame looking tight and ready for embellishments, as well as in-house vehicle fabrications.
Our A-team can take care of everything from full custom paint resprays, metal flake and candy colours. Our workshop is equipped with a spray booth, PPG refinishing systems, a full range of Painthuffer Metalflake, DNA Paints. We also have a range of Smith Concepts merchandise available for those who want to help us share the love.
Custom Paint Work
Smith Concepts have mastered the art of custom paint for bikes and cars with a speciality in hot rods. Embellish your vehicle with professional custom paint, pinstriping, metal flake, candies, airbrushing, design and more.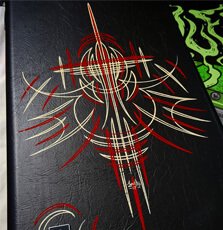 pinstriping
Add character to your hot rod or motorbike with expert pinstriping done by the industry's best. Turn heads with a variety of options, colours and styles – customised to your tastes and desires. Elevate your vehicle with expert pinstriping today.
fabrication & body
A passion for hot rods and bikes are at the heart of what we do. But a killer hot rod or bike always needs a good foundation. Our experienced team can help with vehicle fabrication and body mods to pimp your ride and create something truly unique.
CUSTOM PAINT, AIRBRUSHING, SIGNAGE – NEXT LEVEL DESIGNS  
UNIQUE

Paint

DESIGNS
Based in Brookvale, our custom paint and auto fabrications workshop is 16 km north-east of Sydney's CBD. We are passionate about our craft and have a massive portfolio of killer transformations for hot rods, motorbikes, and even ski boats and decorative skateboards. With no two designs the same, we will take the time to listen to what you want to achieve and design and create something spectacular. We proudly use Australia's leading auto paint brands, including Painthuffer Metalflake, DNA Paints and PPG Refinish. As Sydney's custom paint specialists, we do everything from traditional pinstriping, metalflake, candy paint, gold leaf, airbrushing, signage and design. For dynamic, show-stopping auto and motorbike paint work, repairs, rebuilds and modifications, Smith Concepts has got you covered. 
LET'S
Create

SOMETHING

We love what we do and to toot our own horn, we're pretty bloody good at it too. For quality custom paint work, fabrications, pinstriping or modifications, get in touch with us today.